Do you want a smaller-sized SUP that your children can easily learn on? Bote has a great deal (under $400) on a kids inflatable paddleboard that features a wide, stable design. Plus, it's virtually indestructible!

However, we've listed 3 more kids inflatable SUPs below that all make the "Best Kids SUP" list. Why do we like them? Here are 4 key reasons:
What Makes These Inflatable SUPs Great for Kids?
1. Easy to Learn On: The shorter length combined with the wider shape make these paddleboards extra stable. Therefore, they don't feel as tipsy, and kids have a much easier time paddling.

2. Comfortable & User-Friendly: In addition, the EVA foam deck pads provide a comfortable grip for feet. As a result, kids don't have to worry about slipping off the surface. Not to mention, this cushiony surface feels great to sit or lay on as well.
3. Convenient to Carry Around: Of course, the fact that you can inflate and deflate these boards makes them ultra convenient to transport. You don't need a roof rack or even a car. Just carry your SUP on your back (the Bote only weighs 17 lbs!).
4. Worry-Free Durability: Just like other quality inflatable SUPs, these kid-sized paddle boards are extremely durable. For example, you can drag them along the sand, bump them into docks or run them over rocks and they will do just fine.

In other words, you can count on these blow-up paddleboards lasting many years, even with rough, abrasive use. No more worrying about dings, dents or cracks. =)
What Comes in the Bote Flow iSUP Package?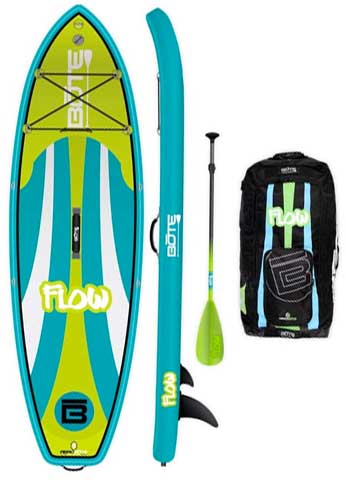 In addition to being designed specifically for young paddlers, the Bote Flow comes with a bunch of accessories. Therefore, you don't have to go spend extra money on an SUP paddle, carrying bag, pump, etc..
Not to mention, you can take your paddleboard straight to the beach the minute it arrives at your door. What you get:
Inflatable SUP
Manual Air Pump
2-Piece Adjustable Paddle
Convenient Backpack for Travel/Storage
Removable Tracking Fin
Repair Kit
The following video reviews the important features on this iSUP. Plus, you can see how easily it deflates, rolls up and fits into the backpack.
Specs for the Bote Aero Flow Kids Inflatable Paddleboard:
Dimensions: 8 Feet Long x 30″ Wide x 4.25″ Thick
Packed Size: 34″ Long x 16″ Wide x 14″ High
SUP Material: Military-Grad PVC
Weight: 17 lbs
Weight Capacity: 170 lbs
Max PSI: 15 PSI
Color: Teal/Green
Fins: (2) Permanent Outer Fins (1) Removable Center Fin
Model: Flow Aero
Brand: Bote
For Sale Where to Buy the Bote Flow Aero iSUP
2. Hydro Force SUP for Teens Learning to Paddle: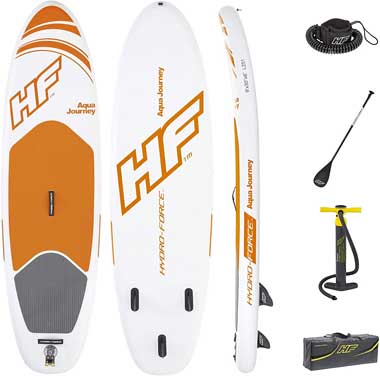 On the other hand, if you prefer a beginner SUP for teens, the Hydro Force Aqua Journey measures 9 feet long. Plus, this entry-level SUP has a greater weight capacity of 220 lbs, so adults can use it as well as kids.
Similar to other kids paddleboards, though, the Aqua Journey has a wide, stable design ideal for beginners. Plus, you can easily take it with you camping or on road trips because it inflates and deflates in minutes.
Note: Short paddleboards have an advantage over longer 11 or 12-foot boards in that they are easier to turn in the water. Not to mention, they weigh less, so they are easier to carry down the beach.
3. Aqua Marina Vibrant SUP Offers a Cheap Alternative:

Lastly, Aqua Marina makes the 8'7″ Vibrant SUP for junior riders up to 150 lbs.
This ultra lightweight board only weighs 15 lbs, so it's easier for kids to carry too. Essentially, it's a smaller version of adult boards, so it has no unique design features besides its compact size.
The main drawback is that this stand up paddleboard doesn't come with a paddle, so you'll need to purchase one separately. That said, you can get a good paddle for about $50 made just for kids.
4. Airhead Popsicle SUP for Small Kids:

You can also get a shorter 7-foot paddleboard for kids 30-120 lbs.
The Airhead Popsicle SUP has a wide shape, more height and 4 fins. Altogether, these features make this inflatable SUP extra sturdy, stable and fun for young kids.
This package does include an air pump and carrying backpack, but you will need to purchase a paddle separately for about $40.