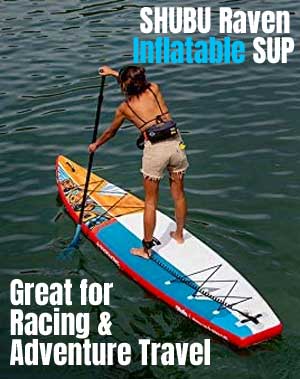 Do want the convenience of a blow-up SUP, but also the faster speed of a hard board? The Boardworks SHUBU Raven Inflatable Paddleboard has a long slim shape and extra rigid design that makes it glide faster through the water.
Plus, the Raven has a nose rocker that helps it propel itself forward, even in choppy waves or river rapids. Basically, it makes paddleboarding easier for people who want to go faster.
It's surprise that some people have even used this inflatable SUP for racing. However, it also makes a terrific all-around touring board, even for beginners.
If you're looking for a paddle board that you can use frequently for fitness or various water activities, the Shubu Raven is worth a look. I really like this board. (For example, yoga, fishing, racing, travel, etc..)
SUP Accessories that Come with the SHUBU Raven:
12-foot 6-inch Inflatable SUP

The SHUBU Raven has extra-reinforced sidewalls, making it more rigid and durable than many other inflatable SUPs. As a result, you get a board that can move faster through the water while still providing stability.

In addition, the elevated nose rocker helps the board easily cut through river rapids or ocean surf. This also helps with speed and stability, so you can feel more comfortable using this inflatable SUP virtually in a variety of water conditions.

Now, you can understand why this Boardworks SUP makes a great choice for racing and adventure travel. The stability also gives beginners a nice advantage too.

FCS II Quick Connect Single Fin

This removable fin doesn't require tools for installation or removal. This feature allows you to compact your deflated SUP even more, and easier to fit into the backpack.

3-Piece Travel Paddle

This lightweight (25 oz) carbon fiber paddle weighs less than standard paddles that you'll find in many inflatable SUP Packages. In other words, you're getting an upgrade here.

In addition, you can adjust the length (70″ to 86″ long) for more comfort and less back strain. Not to mention, you can break down the shaft into 3 parts for easy travel and storage.

I also like the sleek wood-look design on the paddle that matches the board. It not only looks cool, but it guarantees that it won't get mixed up with all of the other black paddles.

SUP Backpack

This extra large heavy duty pack can hold your rolled up SUP plus all of its accessories. Plus, it includes padded shoulder straps, convenient side carry handles and even wheels at the base. (Who said traveling with a 12'6″ paddleboard was difficult?)

High Pressure Pump (with Gauge)

Take this manual air pump with you anywhere, even remote locations. You don't need to plug into a power source. (Alternatively you can get an electric pump here.)

The high pressure capacity allows you to pump up your board to a higher PSI. Therefore, you can achieve a stiffer, more rigid feel for more stability and a faster, streamlined glide.

SUP Repair Kit

Just in case, you know. I've used repair kits many times, and they are really effective and make the job easy to fix small holes.

Boardworks SHUBU Raven Review:
To get more details and see how this inflatable SUP rides, check out the video below. Although it reviews a previous year model, you can get an idea of what to expect from this paddle board.
However, the newer boards have a few upgrades. First of all, the SHUBU Raven now includes 2 cargo areas with bungee cords. As a result, you can carry more gear, or at least have options as far as where you keep your stuff.
Second, the SUP now features 2 more grab handles at the nose and tail of the board. This makes it easier to carry, tie up, etc..
In addition, the EVA traction pad covers a larger portion of the deck. Therefore, you can move around more (or take along a pet) and worry less about slipping. However, the deck pad does not include the tail kick mentioned in the video above.
Specs for the Boardworks SHUBU Raven Inflatable Paddleboard: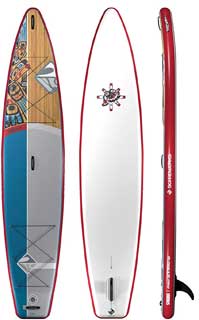 Dimensions: 12'6″ Long x 30″ Wide x 6″ Thick
Weight: 25 lbs
Weight Capacity: 210-260 lbs (depending on skill level)
Max PSI: 14-18 PSI
Material: Dual Fusion Laminate (DFL)
High-Density Drop Stitch Core
9″ FCS II Quick Connect Single Fin
Color: Red/Grey/White/Wood
Model #: 4450469515
Manufacturer: Boardworks Surf & SUP
For Sale: Where to Buy the SHUBU Raven SUP