Do you want an all-in-one iSUP package that gives you everything you need to start paddling? The SereneLife Inflatable Paddleboard with leash, paddle, backpack and pump get get you on to the water for only $350!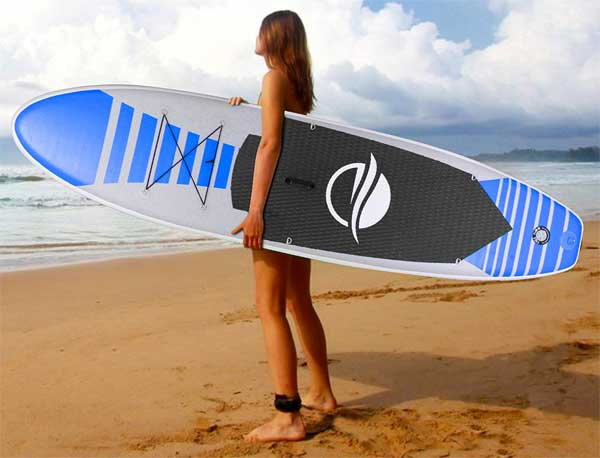 Travel Made More Fun with the SereneLife Free Flow iSUP:
In addition to providing a turn-key paddleboard kit, SereneLife Free Flow can roll up into the accompanying backpack and is ready for travel. The oversized pack even fits the air pump and paddle, so you can take your SUP virtually anywhere and go paddling.
You can even store it in the truck of your vehicle, so it's ready for paddling when you are.
This convenient iSUP set up works really well for people who enjoy traveling to exotic beaches, bays or lagoons. Alternatively, stand up paddling is fun if you go camping near a mountain lake or river.

In addition, you use it for fishing or for doing paddleboard yoga. SUPs really make a great accessory to any vacation. I mean, you can get a workout in and also use it for entertainment.
Not to mention, you don't have to rent expensive equipment or pay hefty luggage fees (like you would with a hard board). Inflatable stand-up paddleboards can be a lot of fun, while saving you money at the same time.
Note: The wide, flat shape of this board make it perfect for cruising and exploring because it has a stable design. However, it doesn't have much of a nose rocker. Therefore, it may not perform as well for surfing ocean waves.
Features of the Free Flow Inflatable SUP Worth Mentioning:
1. The Deck Pad is Smaller than Average
This SUP has a comfortable textured foam deck pad that provides both traction and cushioning. Therefore, you won't slip off the board, and the board has a softer surface.

That said, the deck pad doesn't even extend half the length of the board. For instance, the NIXY Yoga SUP has a much larger cushioned surface. You can see a picture of it on the right.
A larger deck pad works better for doing yoga or even transporting a pet on your board. It also makes the board less slippery.
However, if you don't really care, you can save yourself some money buy purchasing the Free Flow.
2. This Inflatable SUP Comes in 4 Fun Colors:

Unlike many paddleboards, SereneLife gives you the option of 4 different fun colors (orange, aqua, blue or pink).
Plus, you get the coordinating color backpack and paddle! Besides looking cool, this feature actually can come in handy.
Let's say you are on a beach with other paddleboarders. It can be very easy to mix up paddles because they typically are all black. If you have an orange paddle, for example, it will stand out from the rest.
By the way, if you want your board to be more visible in the water, choose either the orange or pink package.
3. It Comes with a Convenient Detachable Fin:
This SUP has 2 short outer fins and 1 center tracking fin that you can remove. This makes it easy to pack in backpack, plus you can remove the long fin if you are exploring shallow waters or rivers.
You simply slide the fin in and out of the bracket, and you don't need any tools. See what I mean in the image below:

4. There is a Negligible Bungee Tie Down Area
This inflatable SUP doesn't provide a large designated space to store gear. Some paddleboards, like the Aqua Discover, have 2 bungee tie down areas instead of just one.

Plus, the Aqua Discover includes a portable SUP cooler that attaches securely to the on-board D-rings. Not to mention, it comes with an attachable kayak seat so you can transform your SUP into a sit-on-top kayak.
You may not need all of those accessories. However, it can be nice to compare boards before you buy.

5. The Oversized Backpack has a Nice Design
As I mentioned above, this heavy-duty pack can conveniently fit all your paddleboard gear. In addition, it comes with comfortable padded shoulder straps and a supportive waist band.
Therefore, if you want to hike out to a lake with your SUP, you've got a good ergonomically-designed backpack.
6. The Included Leash Comes in Handy in Rougher Water
If you plan on taking your board out on ocean surf or river rapids, a leash will prevent your SUP from getting away from you. Plus, a coiled leash works better than a straight-line leash because it it shortens and lengthens as you need it. Therefore, it won't get tangled up or drag in the water.
SereneLife iSUP Package Includes:
Stand Up Paddleboard
3-Piece Adjustable Aluminum Paddle
High Pressure Air Pump with Built-in Pressure Gauge
Coiled Leash (Specifically for paddling)
Oversized Carrying Backpack
Repair Kit

Specs for SereneLife Inflatable Paddleboard with Leash:
10'5″ Long x 30″ Wide x 6″ Thick
Weight Capacity: 285 lbs
Board Weight: Approximately 20 lbs
Max PSI: 20+ PSI
Fins: 3 (Center Tracking Fin is Removable)
4 Color Options: Aqua, Blue, Orange, Pink
Customer rating: 4.8 Stars (Out of 5 Stars)
1-Year Warranty
Model #: SLSUPB125 | Free Flow
Brand: SereneLife