Do you want a versatile SUP that you can take virtually anywhere, and it's easy to stand on? The Nixy Newport Inflatable Paddle Board combines high quality construction with user-friendly design to make one of the best touring SUPs.

Who is the Nixy Newport G4 Designed For?
You'll probably love this board, whether you're new to paddleboarding – or want to paddle everyday for fitness. Take it out on lakes, rivers, bays or even small surf.
The Nixy Newport G4 offers good stability for beginners, yoga or paddling with pets. Plus, it's easier to maneuver than other boards due to its shorter length.
In other words, you can use the Nixy for multiple activities in various locations. As a result, you can get a lot of value for your money. Not to mention, you can easily travel with it.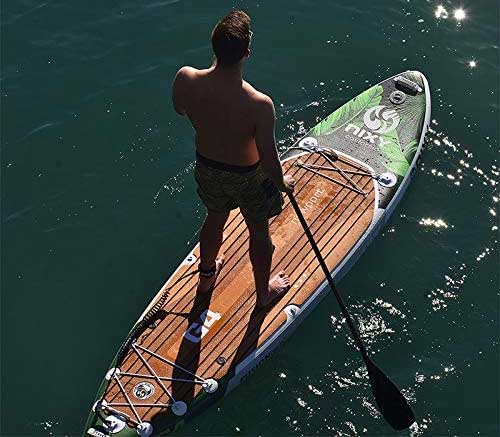 Note: I really like the faux wood panelling on the top (which actually is a comfortable grippy deck pad for your feet). It definitely has that casual island vibe that makes it more fun to take out on the water.
What You Get in the Nixy Paddleboard Package:

The Nixy G4 SUP comes as a complete package, so you can get out on the water when you receive it. Plus, the paddling accessories have upgraded features over other SUP kits. In other words, you're getting a good value for the money.
Inflatable SUP
Comes with a non-slip traction pad, dual bungee straps for attaching cargo and a paddle holder for stowing your paddle out of the way. In addition the deck has multiple D-rings for securing tow lines, a kayak seat or additional gear.
Air Pump (Dual Chamber Triple Action)
Many inflatable paddleboards come with basic single chamber air pumps. These require more time and effort to inflate your SUP. On the other hand, dual action pumps enable you to fill your board faster and more easily to a higher PSI. In fact, these more powerful pumps can run $100-150 by themselves.
Adjustable Carbon Fiber Hybrid Paddle
The adjustable paddle allows you to lengthen or shorten the handle to the most comfortable size for you. Plus, the carbon fiber material keeps it more lightweight than aluminum alloy paddles.
3 Detachable Fins
Not all SUPs have fins that detach, which makes them more difficult to pack into a travel bag. The Nixy, however, has fins that you can remove. Plus, they don't require special tools to do so
Coiled Leash
This bundle includes a bonus leash specially designed for paddleboarding (rather than surfing). Leashes work well in rough surf or rivers where you want to stay connected to your board if you fall off. Coiled leashes are preferred over straight because they don't get tangled around your feet.
Heavy Duty Carrying Backpack
This extra large SUP bag has padded backpack straps, side carrying handles and rolling wheels. Therefore, you can transport it in a variety of different ways. In fact, it's so comfortable and convenient that you may decide to use it for other purposes besides carrying your SUP.

Repair Kit
How is the Nixy Newport SUP Good for Beginners?
The Nixy SUP is one of the best paddleboards for beginners because it has a stable design and is very user-friendly. As a result, people learn the sport faster and enjoy paddling more.
For example, the board inflates to 15 PSI, which makes it feel rigid like a hard board. In addition, the Nixy G4 has reinforced carbon side rails to make it ultra stiff.
Consequently, this stand up paddle board doesn't bounce in rough surf. Plus, the firm deck provides extra stability for paddlers and boosts confidence for newbies.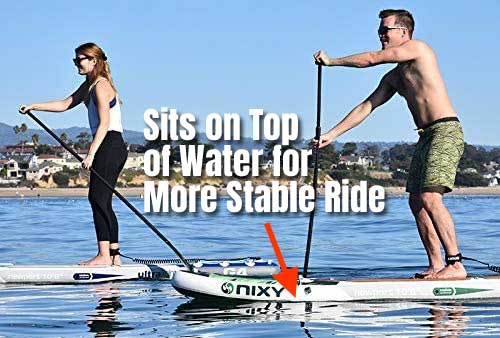 On top of that, the 6-inch thickness helps the board sit higher out of the water. Therefore, you tend to feel more steady than on an SUP that sits lower in the water. (Great for doing yoga too!)
Note: In addition, this Nixy paddle board has a shorter length (10'6″ long) than other boards. As a result, you can turn it faster and more easily in the water. This may not be a super fast SUP, but you can maneuver it with less effort than you would with a 12'6″ or 14′ board.

Furthermore, the G4 SUP is surprisingly lightweight at 21 lbs. So, it's easy to carry down to the shore or even in a backpack.
For that reason, many people like to travel with lightweight inflatable paddleboards. They deflate and roll up into a compact size, plus their 21-pound weight makes them easily manageable, even for a smaller person to carry.
Of course, the shorter length also makes your board less bulky and easier to move and lift. (Very convenient!)
Note: By the way, this inflatable SUP is extremely durable with it's heavy-duty PVC drop-stitch construction. So, you don't have to worry about banging into things, or traveling with it. It can last many years, even with frequent use. Plus, these boards are super low maintenance.
Specs for the Nixy Newport Inflatable Paddle Board:


Dimensions: 10'6″ Long x 33″ Wide x 6″ Thick
Weight Capacity: 300 lbs
Board Weight: 21 lbs
Max PSI: 15 PSI
Material: Dual Layer PVC, Drop-Stitch Technology
Reinforced Carbon Side Rails
UV Protected Material
Fins: 3 Removable
Color Options: Aqua, Blue, Purple, Green
2-Year Warranty
Model: Newport G4
Manufacturer: Nixy Sports
For Sale: Where to Buy the NIXY Newport