Do you want a lightweight, easy-to-use, ultra durable stand-up paddleboard? Then, you'll want to check out the latest Airtech Isle Inflatable SUP.
Since 2004, Isle Surf & SUP has been making surf and paddle board products. We know them for their quality, reliability great board designs. The Isle Airtech 10'6″ is their most popular board.

Here are some key features that I like about the new Airtech SUP, plus some potential disadvantages.
1. The Isle Airtech has a Lightweight, High-Tech Design
First of all, this new model only weighs 21 lbs (about 10 lbs less than many other inflatables). Isle's latest advancement in SUP construction, "AIRTECH® Fusion Lite", makes boards lighter while also making them stiffer and more durable.
Of course, the lighter weight design makes the equipment easier to carry. However, you don't have to put up with cheap construction, poor performance or a board that won't last.
Quite the contrary. In fact, the increased rigidity helps this SUP glide more smoothly through the water. In addition, the firm surface improves stability, making it easier to balance while standing.
Check out the video below for the Isle SUP Review:
2. Strong Construction Lets You Do More with this Inflatable SUP
Second, the Isle Airtech SUP has a high level of durability. Like most inflatable paddle boards, the military grade drop-stitch construction makes it impervious to dings and dents.
Unlike fiberglass hard boards, you don't have to worry about dropping them, and then having to pay for costly repairs. In addition, they work great for running down river rapids because they can simply bounce of large rocks and logs. (Just remove the longer center tracking fin before you launch, though!)
3. The Isle Inflatable SUP is Easier to Paddle

Third, the shorter design of the Airtech (10'6″ length) makes this SUP easier to turn and maneuver in the water. Therefore, riders prefer it for activities like surfing and river paddling.
Not to mention, beginners usually like boards that aren't too long because they require less effort to move around in the water.
Plus, the smaller size makes them easier and less cumbersome to transport. (Keep in mind that even shorter paddleboards still have plenty of length for yoga, cargo and pets.)
4. This is a "Do Everything" Inflatable SUP
Fourth, the Isle stand up paddleboard is very versatile. As I mentioned above, you can surf, run rivers, do yoga or carry your pets on it. Plus, the extra firm structure allows this SUP to ride well on both flat water and waves. (Also check out the yoga-specific Isle LOTUS if you are more interested in a yoga paddleboard.)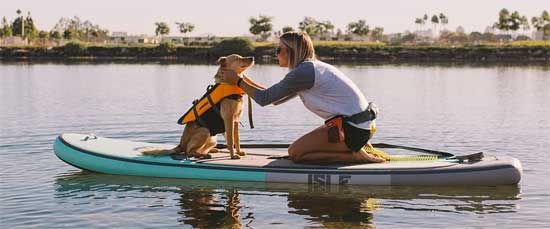 In addition, the compact size and 3-piece paddle make it convenient to travel with. Especially if you take it on an airplane!
Note: We don't want to overlook the fact that the Isle Airtech SUP provides key features that beginner paddlers want. Even though the high-tech inflatable design doesn't make this look like novice sports gear.
5. You Can Pay Less Money for Other Paddleboards

I don't think the Airtech is expensive, but you can buy other boards for cheaper. For example, the Airhead SUP and the Stingray Inflatable Paddleboard both cost about $200 less.
That said, they both are only 4″ thick (VS 6″ which provides more stability). And, the Airhead doesn't include a paddle. They both weigh about 10 lbs more, and neither can support as much weight.
6. SUP Not Made for Speed


Inflatable stand up paddle boards don't glide as fast through the water as hard boards do. Many people don't notice or even care, however, it's something you want to be aware of before you buy.
Note: If you want to get a faster inflatable, though, look for SUPs with a longer, narrower design.
Like the 12'6″ Sea Eagle Needlenose, for example.
What Does the Isle Airtech Paddle Board Package Include?
Isle provides plenty of SUP accessories in their complete paddleboard package. In other words, you won't have to purchase additional gear to go surfing or a case for traveling.

10'6″ Long Inflatable SUP
Aluminum Adjustable 3-Piece Travel Paddle (that floats!)
Durable iSUP Carrying Backpack
High Pressure Air Pump with Pressure Gauge
Coil Leash (preferred for paddling VS a straight line leash)
Detachable Center Fin
Product Manual & Repair Kit
Deck Design of the Isle Inflatable SUP:
Like most other inflatable paddle boards, the Airtech has a grippy deck pad, convenient carrying handle and bungee cargo straps. However, it has 2 move key features I wanted to mention.

First, you can attach the SUP paddle to the left side of the board when not in use. This holder comes in handy when you want to keep your paddle secure without holding on to it.
In addition, the nose of the board has a second carrying handle. You can also use it to tie up to a dock, connect to other SUPs or attach a floating cooler.

Isle Inflatable SUP Specs:
SUP Inflated Dimensions: 10'6″ x 31″ x 6″
Board Weight: 21 lbs
Weight Capacity: 240 lbs
Max Inflation Pressure: 15 PSI
Color Options: Blue with Grey or Aqua with Grey
Model: 10'6″ Airtech
Manufacturer:

Isle Surf & SUP

60-Day Money-Back Guarantee
Isle Inflatable SUP Review Summary: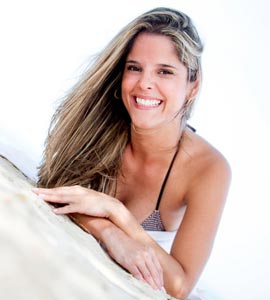 People who don't mind paying extra for quality sports gear will appreciate the new Isle Airtech paddle board. I think paddlers who want to try paddlesurfing, river paddling, SUP yoga, etc.. will definitely get their money's worth from this board.
In addition, the compact size and light weight of this inflatable SUP make it more convenient to use. Therefore, users typically go paddleboarding more often and get more use out of the equipment. In short: you can't go wrong with this Isle SUP unless you want to pay less than $500.