Do you want an affordable inflatable SUP that gives you a discounted bundle with a bunch of paddling accessories? The Aquaplanet Paddle Board includes 10 pieces in its paddleboarding package. Plus, you can use this durable, all-around touring SUP for al sorts of sports.


5+ Ways You Can Use the Aquaplanet Inflatable SUP:
1. First of all, the rigid structure, extra board thickness and enhanced grip deck pad make this paddleboard extra stable. As a result, it's a great option for beginners, teens, paddleboard yoga or transporting pets around. (Not to mention, this is a strong, well-made paddleboard.)

2. Second, the curved nose rocker enables the Aquaplanet PACE to easily cut through surf and choppy water. Therefore, you can take it down rivers or into the ocean for some paddlesurfing.
3. Third, the "touring" design and long center fin make this SUP good for longer-distance paddles. The fin helps it track straighter, and therefore requires less effort when paddling.
4. Fourth, you can even turn this paddleboard into a sit-on-top kayak (see below). The deck has 4 strategically-paced D-rings to attach a seat. =)
5. Fifth, you can easily travel with this SUP because it's inflatable. So, take it to Hawaii for some surfing or sunbathing, or take it camping or on a fishing trip.
Note: The once case where the PACE stand up paddleboard does not perform well is in speed. So, if you want a faster SUP for racing, etc.. check out the Boardworks SHUBU Raven.
Aquaplanet PACE Paddleboard Kit is a Deal:
10ft 6in Inflatable SUP

I like this board size, specifically for beginners, smaller adults or teens. The shorter length makes it easier to maneuver in the water, plus it weighs less and is easier to carry.

High Capacity Air Pump

Aqua Planet gives you a "dual-action" air pump, which means that it can inflate your SUP much faster, and with less effort. The pump also includes a pressure gauge, so you can see the board pressure as you pump. This saves time and prevents over-inflation.

Adjustable Aluminum SUP Paddle

Basic aluminum paddles typically weigh slightly more than upgraded carbon fiber paddles, so this paddle is pretty standard. However, it's very sturdy, it floats and you can adjust the length. Plus, the shaft conveniently separates into smaller sections for easy transport and travel.

Removable Tracking Fin

This stand up paddleboard has 3 fins, 1 of which is removable. Therefore, you can go paddling with 2 or 3 fins. Furthermore, the longer removable fin makes it much easier to pack your SUP and travel with it.

SUP Carry Bag

Having an extra-large bag for carrying your SUP makes it easier for travel and storage. However, several customers have commented that they like the paddle board – but want a more durable bag.

Board Carrying Strap

Instead of lifting your SUP over your head or grabbing onto the center handle, you can attach this handy carrying strap. Now, you can throw the strap over your shoulder and have your hands free to carry other items. (Super convenient!)

Compact Dry Bag

Dry bags can come in handy while out on the water. This pack is not too big (5 liters), plus, you can easily latch it onto the board's D-rings or bungee cord.

Coiled Leash & Repair Kit
When you're paddling in rough surf or down rivers, having a leash attached to your ankle gives you security that you're SUP won't accidentally get away from you. Coiled works better than straight leashes for paddleboarding.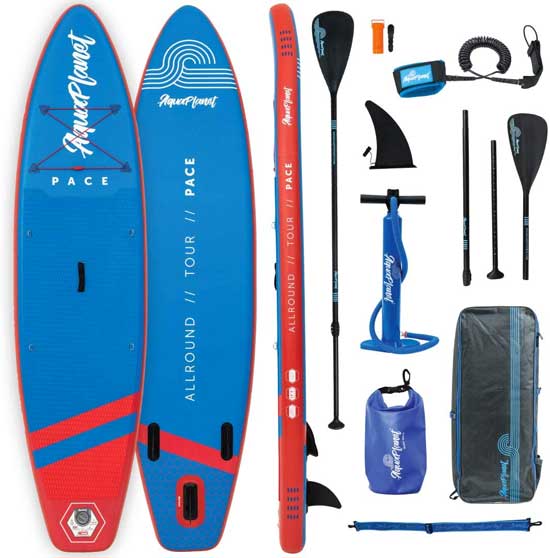 Note: For under $500, you get a lot of gear with Aquaplanet's package. For example, many inflatable SUPs give you a pump, backpack, paddle, repair kit and fins. However, this bundle also includes a small dry bag, a coil leash and carrying strap.

In addition, the deck includes 4 specially-placed D-rings so you can attach a kayak seat (or other gear).
As a result, you can use your SUP as a sit-on-top kayak if you want. (You can get a lot more use out of it.)
Specs for the Aquaplanet Paddle Board:
Dimensions: 10'6″ Long x 31″ Wide x 6″ Thick
Weight: 24 lbs
Weight Capacity: 265 lbs
Max PSI: 15 PSI
Material: Military Grade PVC
Reinforced Dropstitch Construction
3 Fins (1 Removable)
Color: Blue/Red
Model #: SS002/PACE
Manufacturer: Aquaplanet Sports
For Sale: Where to Buy the PACE Touring SUP