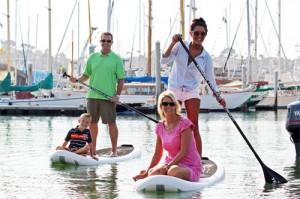 Tower Paddle Boards is the manufacturer-direct SUP brand. By skipping the traditional retail distribution channel, they are able to pass cost savings on to their customers without sacrificing quality.
Don't be mistaken, these are not cheap boards. In fact, Mark Cuban is part owner of the company and stands behind the products.
What I like about Tower is that they make it easy to shop for different types of boards, depending on your needs.
For example, you can shop by flatwater styles, boards designed for surfing, crossover models, boards created for larger paddlers or tandem riders and of course portability.
Interestingly, their most popular model is the Adventurer 6″ iSUP – this is one of their inflatables. This tells us that inflatables are becoming more popular as more people are getting into the sport and appreciating the portability that inflatable styles offer.
Even though it is one of the less expensive iSUPs on the market, The Adventurer is really tough, durable and rigid due to its extra thickness (6″ vs 4″ of other boards).
It can handle rough water and surf like a hard board (except that it won't ding), which makes it more versatile and usable. You get your money's worth with this one!
You can get it with a pump and 3-piece adjustable paddle, perfect for traveling.
Speaking of traveling, you can roll up this board into about the size of a sleeping bag, and it will fit easily into the overhead compartment of a plane. Hello Hawaii!
Watch how Tower Adventurer survives car drive-over:
Click here for more information