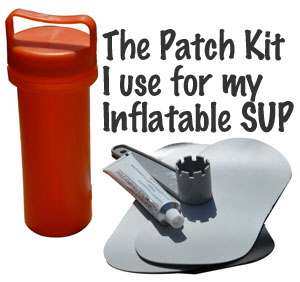 I personally haven't experienced problems with inflatable SUPs leaking, but I know that it can happen. The good news is that is typically an easy fix, and repair kits are cheap. In fact, most inflatables come with their own patch kits just in case.
Update July 6, 2016: I got a leak! It was on a seam along the side of my SUP (seams can be more challenging to repair). I thought I'd pass along what I learned and the steps I took, since they helped me and may help you successfully patch a hole.
1. Deflate your SUP.
2. Clean the area to repaired.
3. Apply a layer of repair glue to the hole/seam. Wait 20 minutes.
4. Apply another layer of glue on top of the first layer. Wait 20 minutes.
5. Apply another layer of glue. Wait 20 minutes.
6. Apply the patch with glue on top of the glue you have already applied. Wait 24 hours before inflating.
This method fixed my leak! I didn't believe it would work at first. I had to try it myself after unsuccessfully patching the seam with a patch first. This is the adhesive/patch I used.
Watch this video for more information on how to do it:
The Cost: Between $10 – $25
If you are in need of a repair patch or adhesive, you can get these online usually for about 10 bucks. Complete kits can cost more since they can fix more leaks.
In situations like this, I always think, "boy, that's expensive for a patch", but in reality it's cheap compared to buying a new board. Furthermore, you can easily do it yourself and save the cost of paying a shop to do it for you.
The Good News is that it's Easy!
The good news is that with some of these patches, repairs can take only a few minutes. The repair process is actually so simple with some of these kits that repairs can be done on site. That said, I would recommend waiting at least 24 hours for the patch adhesive to set before inflating gear at a high psi such as paddleboards.
What to Look for:
When shopping for an inflatable sup patch kit, look for one designed for pvc repairs (rather than vinyl). The kit may not necessarily say it's made for paddleboards – but if it is for pvc materials and mentions kayak or boat repair, you're in the right place.
How Do You Patch an Inflatable SUP?
First things first, clean the area you want to repair with acetone or alcohol. Let it dry, then start your repair.
Patch Repair Kits with No Glue
Some patch repair kits are just that: a patch. No glue is required. Adhesive is activated by pressure, and without glue, there is less mess – well, actually none.
You simply cut the patch to the size you need, remove the backing and stick into place. It's so simple that most people don't think it will actually work until they try it.
Tear-Aid makes a patch kit specifically for boats, towables and other water sports products that require extra strength repairs and, of course, a fix that will hold up in water.
Sevylor also sells a patch kit designed specifically for pvc inflatables that you can get here.

Patch Repair Kits with Glue
Some patch kits come with a patch plus adhesive like the kit that I used and show at the top of this post.
This can be better for leaks on seams (as I described above). However, they work on puncture leaks as well.
There are also products that just include the adhesive – no patch! Sevylor makes a product called AIRSEAL, that patches holes like liquid plastic. Many people have used this on their inflatable SUPs and love it.
D-Ring Patch
Many inflatable paddleboards come with D-rings for attaching your gear to the top of the board while paddling. But what if you need to replace a D-ring? Or what if your board did not come with D-rings – or what if you simply want more?
That's where these patches come in handy. They come in a variety of colors to match your equipment, and you attach them with the same adhesive listed above. Simple as that!